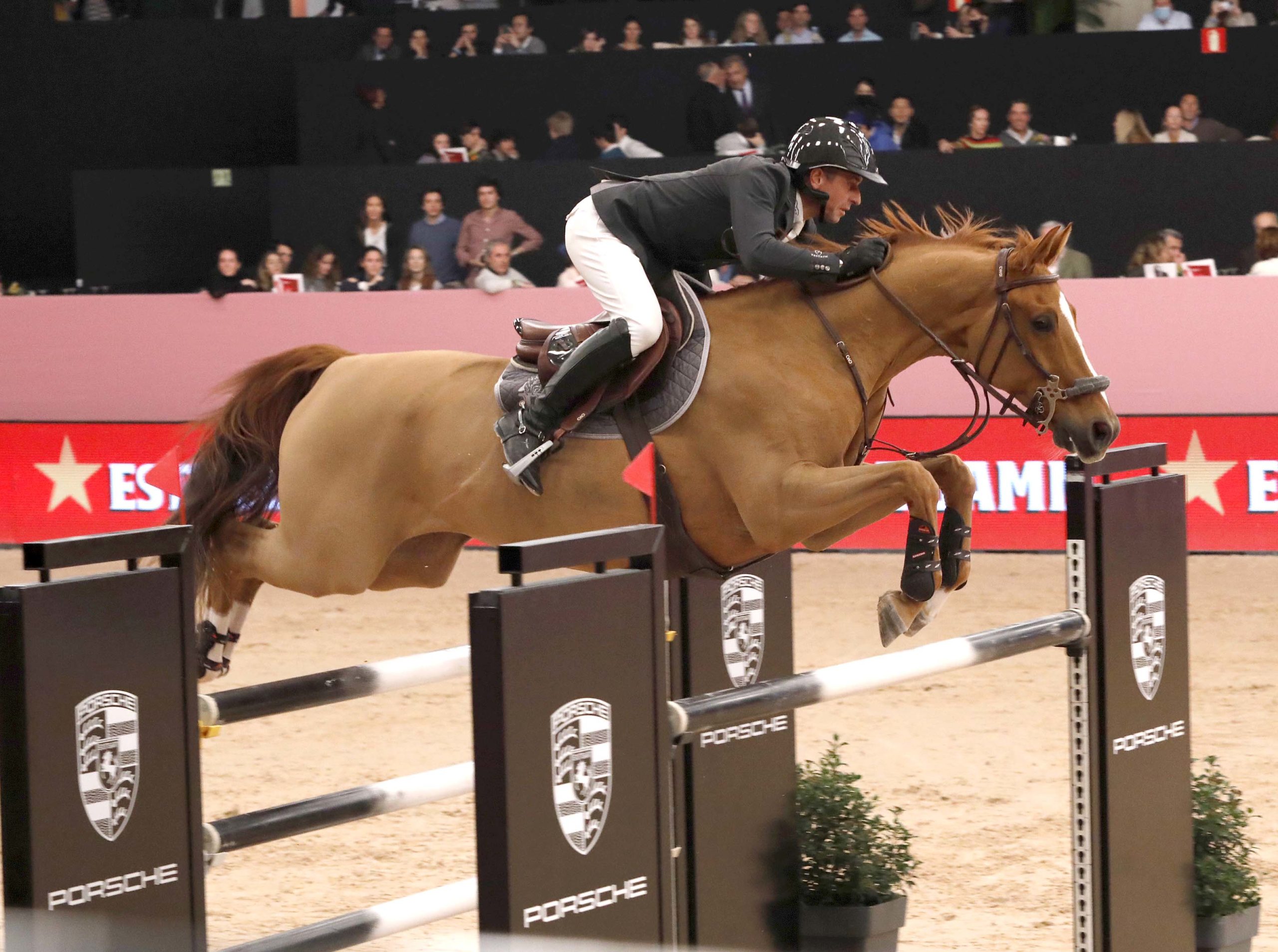 Double victory of Julien Epaillard with «Solero MS» in the 2021 edition of IFEMA Madrid Horse Week. The French proved again in an exciting jump-off that he is the fastest rider on the international circuit.
The evening session in the central arena started with the Estrella Damm Trophy, the most important test of the second day in the CSI5*-W schedule. Only thirteen riders of the 40 pairs finished with zero points. Javier Trenor's track included 12 obstacles, with a final line with a triple (vertical/oxer/vertical) problematic for many riders.
Only Manuel Fernández Saro, one of the six Spanish riders on the test, and «Acoufina PS», the 9 year old ALDA Stables mare that the Andalusian has only been riding for a short time, qualified for the winning round. The Spanish and the daughter of «Action Breaker» made the worst time of the clear rounds, so they opened the jump-off. Fernández Saro was able to put the icing on the cake to his good day with the Codina family mare making a new zero in 38,12 seconds. A record that allowed them to be in first place at the beginning.
Pieter Devos with «Kannabis van de Bucxtale» was the first to lower his time, finishing in 36,15 seconds. The Belgian did not last long on top as Marcus Ehning and the veteran «Funky Fred», two-time winners of this race, went for their third win. They made zero and a time of 35,98 seconds that looked like it could not be lowered.
However, the young Harry Charles with «Aralyn Blue», a 10-year-old daughter of «Chacco-Blue», made 35,53 seconds which took him to lead the classiffication for a while. Almost immediately after, Julien Epaillard and «Solero MS», who had won the big course on Friday, brought a superb performance that put the audience of the IFEMA pavilion on its feet. The Frenchman and the son of «Silvio I» achieved the impossible, finishing in 34,33 seconds.
Julien Epaillard shone again with his own light against the clock, signing his second victory in Madrid, in a season in which he already has more than fifty international victories. The French was followed by Harry Charles, second with «Aralyn Blue», while Marcus Ehning and «Funky Fred» were third.